A list of Top Antivirus Software for PC
Best Antivirus Programs for Computers and Laptops
This Topic Covers the Answers to the Following Questions
Mention the names of all the top, genuine, and authentic antivirus software that is available for personal computers or laptops?
Describe each antivirus software in detail along with its features?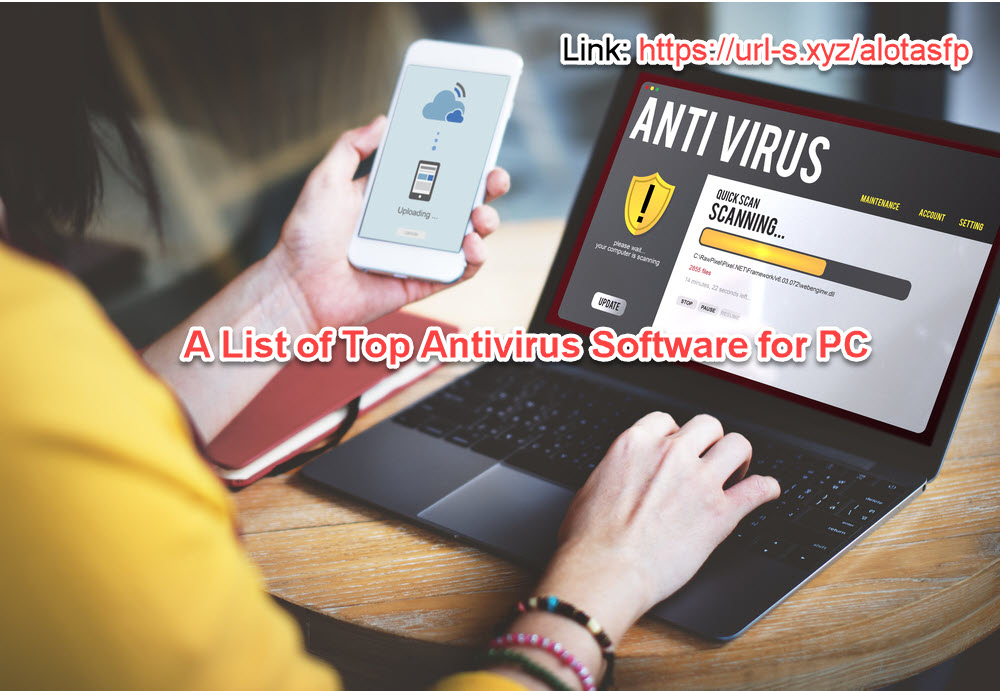 We already have an idea about computer viruses and malware. If you haven't read our earlier post then kindly refer to 'What is a computer virus and malware? How can one differentiate them both?' After referring to that article, you will get an idea about malware and viruses.
Computer viruses, though they appear simple with the name, can cause nasty damage to the computer by corrupting or damaging the data they infect. Viruses not only copy themselves and fill up the space but also insert malicious code in executable files making them unusable.
Some viruses do not do any harm until they are executed by the user, whereas some viruses corrupt the main files of the operating system (OS) making it useless and unable to operate. Viruses halt the running processes of computers or devices resulting in improper functioning of applications.
Computer viruses are usually transmitted from the following –
Infected USB Flash Drives (Removable or Portable Storage)
Malicious Websites
Email Attachments
Unauthentic Web Links
And many more.
Precautions must be taken while you are going to use any USB flash drive. The USB flash drives must be scanned with the best antivirus program prior to accessing them. Everyone must stay away from unknown websites with poor authority and with plenty of advertisements. The web links received from unknown people should not be touched. Email attachments must be scanned prior to accessing them.
All these precautions can be managed with the help of the best antivirus programs available on the internet.
Let us discuss the top antivirus programs in detail one by one. The list is as follows –
AVG Ultimate or Internet Security
AVG Ultimate and AVG Internet Security are the 2 different digital products of AVG Technologies. AVG Ultimate is the combo pack of 3 software including AVG Internet Security, AVG Secure VPN, and AVG TuneUp.
Let us talk a little about AVG. AVG Technologies are a security pioneer, offering a wide range of protection, performance, and privacy solutions for consumers and businesses. AVG is now a part of the AVAST family of world-leading digital security products, dedicated to keeping people around the world safe.
The products of AVG are dedicated to protecting families and businesses. The AVG team's goal is a world in which people enjoy their lives online without worries. They believe that everyone has a right to security and privacy and they are helping in achieving it. The AVG team also thinks about the businesses and the loss a business must bear with online threats, and for this reason, the team provides award-winning products to protect their data.
Now, let us discuss the features offered by AVG Ultimate and AVG Internet Security separately.
Features of AVG Ultimate –
Antivirus Protection – Users will get protection from viruses, hackers, ransomware, webcam hackers, and malware of all kinds due to layers of specialized security.
Faster Performance – The performance of the system will be improved by 30% due to powerful optimization and cleanup tools.
Powerful 256 Encryption – The data and the connection are encrypted with military-grade encryption that allows you to use public wi-fi safely.
Simultaneous Connections – Users can use AVG products on up to 10 devices simultaneously with AVG Ultimate subscription.
Battery Profiles – The user can choose or swap different battery profiles depending upon the performance required and the battery strength remaining.
Device Lock – The user can use the device lock facility as additional protection to prevent unknown visitors from accessing the user's phone.
Startup Optimizer – Prevent the startups of less used apps thereby improving the speed of loading i.e., performance during startup.
Payment Protection – Protects your online payments through military-grade encryption technology and keeps you safe from hackers and spies.
Software Updater – Keeps all your installed software up-to-date and fix any vulnerabilities thereby improving security
Smart Photo Cleaner – With the help of this tool, users can find duplicate and inferior quality photos and erase them thereby freeing up the space.
Browser and Disk Cleaner – Helps in clearing out browser's data including cache and cookies, and clearing our unused junk files that help in stealing data.
Access Content Worldwide – Users can access geo-restricted content by connecting to remote servers and watching it from anywhere anytime.
Sensitive Data Shield – Extra layer of protection for sensitive data like banking details, credit, or debit card details, etc.
Anti-Theft – User can use anti-theft tools like GPS Tracking, Camera Trap, Warning Alarm, etc., to find the lost phone.
Automatic Maintenance – Automatically tunes up your system or device for best-optimized performance.
Save Money Shopping Online – Users can get better deals on certain products and services by connecting to remote servers.
Features of AVG Internet Security –
Protect Every Part of your Online Life – Includes computer protection, web & email protection, hacker attacks protection, privacy protection, and payments protection.
First Line of Defense for your PC – Includes advanced antivirus that scans your PC for viruses, ransomware, spyware, and other types of malware; behavior shield that send alerts if the suspicious program is found on your PC; AI detection that identifies malware samples to protect you; cybercapture that blocks new threats that automatically upload them for analysis.
The Safest Way to Connect – Includes link scanner that avoids dangerous websites by scanning links for anything suspicious; web shield that checks files for hidden malware before downloading them onto your computer; email shield that blocks dangerous email attachments to avoid falling victim to phishing attacks; wi-fi shield that gives you an alert when connected to unsecured wi-fi network; toolbar remover that removes unwanted or malicious browser's toolbars and extensions.
Keep Hackers and Ransom Seekers Away – Includes enhanced security system (firewall) that stop hackers from accessing your private files and photos; ransomware protection that protects your files and photos so hackers cannot lock them and control which apps can change or delete them; password protection that prevent 'blocked apps' from reading, changing, or deleting passwords saved in your browsers.
Stop Snoops from Spying on you – Includes webcam protection that protects against webcam hacking by forcing untrusted apps to request permission to use your webcam; data shredder that securely and permanently delete files and data to prevent unintended or unauthorized recovery.
Shop and Bank Online Freely and Securely – Includes fake website shield that avoids fake websites by automatically being redirected to real websites if you accidentally land on one.
Protect your Entire Family – Can be used simultaneously on up to 10 devices with a single subscription. You can protect every device your family uses.
Mobile Security Included – AVG Internet Security also protects your Android, PC Tablet, iPhone, or iPad. Keep you safe online, lock your private files and photos, and help in finding your phone if it gets lost.
Avast Ultimate and Avast One are the 2 distinct products of Avast Company formerly known by the name of ALWIL Company. Avast provides digital freedom for everyone. The team behind Avast believes that wherever you live, whatever you love, wherever you are going, and whatever you do, you have the right to live freely and safely online.
Avast's mission is to provide a better digital world that works for everyone. Avast is committed to ensuring everyone can control what they share online and who they share it with.
There are certain facts about Avast that make Avast a top priority selection. They are –
There are more than 435 million active users of Avast right now and the count is continuously growing too.
The team behind Avast has more than 30 years of experience in providing digital security solutions.
It is Avast that is blocking more than 1.5 billion cyberattacks every month with its modern technology.
Isn't it enough to choose Avast as a digital security solution for your devices? Let us discuss something more about Avast that makes up your mind for Avast.
Let us discuss how Avast is going to keep you safe from online threats –
By providing free antivirus that works the best but with certain limitations.
By providing a smoother and faster online experience.
By providing a browser built for privacy.
By protecting the data of businesses and their dreams.
Now it is time to discuss the features offered by Avast Ultimate and Avast One subscriptions –
Features of Avast Ultimate –
One Suite Covers It All – Includes Avast Premium Security that blocks all the viruses and malware including ransomware; Avast SecureLine VPN that provides total online privacy; Avast Cleanup Premium that includes top cleanup and tuneup tools; Avast Antitrack that provides anti-tracking protection.
Get complete online protection with Avast Premium Security (APS) – APS gives protection and the toughest defense against viruses, ransomware, spyware, zero-second threats, public wi-fi vulnerabilities, and more. Protect all your devices including phones, computers, and tablets with Avast Premium Security.
Avast SecureLine VPN gives you true online privacy – Avast VPN's bank-grade encryption protects you and your online activities such as browsing, messaging, shopping, online payment, etc., from hackers and spies.
Avast Cleanup Premium is the Ultimate Cleanup and Tuneup tool – Avast Cleanup tool eliminates the junk and cached files and the Tuneup tool stops the unused apps from the startup thereby improving the performance of your computer or mobile device. Optimization will be done with one click.
Stop Invasive Online Tracking – Avast Antitracking Software warns you when anyone tries to track you and stops them. The modern technology deployed by Avast prevents snoopers from monitoring your online activities.
Features of Avast One –
Protection from Viruses and Malware – Block viruses and malware with advanced antivirus protection.
Advanced Filtration – Keep intruders out with a security system (firewall) implementation.
Military-Grade Data Encryption – Get extra privacy when you browse, bank, or shop
Advanced Anti-tracking – Make yourself untraceable by online advertisers
Advanced Privacy Protection – Go truly incognito online by easily enabling top privacy tools
Unlimited VPN Access – Enjoy unlimited VPN access for streaming and more
Advanced Compromised Passwords Detection – Find compromised passwords and get automatic alerts about data breaches
Advanced Cleanup and Tuneup Tools – Clean up, speed up, and update your devices
Escape Geo-restriction – Access your streaming subscriptions from any country
Advanced Encryption – Protect passwords saved in your browser
Anonymity and Advanced Data Encryption – Stay safer on public Wi-Fi networks
There are also other plans available with Avast, kindly refer to 'Compare All Plans of Avast'.
McAfee Total Protection is a digital product provided by McAfee company. McAfee is a worldwide leader in online protection. The team behind McAfee focuses on protecting people, not devices. The headquarters of McAfee is located in San Jose, CA, USA.
'Peter Leav' is the President and CEO of McAfee. McAfee empowers individuals and families to enjoy a safer life online. McAfee pledges to remove the viruses on your devices or refund your money back guaranteed. McAfee is an all-in-one protection to safeguard your privacy and identity.
There are certain facts about McAfee that should be considered –
More than 600 million devices across the globe are secured with McAfee Total Protection.
More than 42 million threats are blocked by McAfee per day.
The highest rating has been given to McAfee in terms of security by SE Labs.
The features offered by McAfee Total Protection are as follows –
Advanced Monitoring – Faster and broader detection for your identity.
Automated Privacy – VPN turns on automatically for unsafe networks.
Custom Guidance – Protection score with tips to keep your device safe.
Easy to Use – Simple setup for protection on all the devices.
Award-Winning Antivirus – Protects your devices from online threats, viruses, and malware.
Identity Monitoring – Monitor up to 10 email addresses simultaneously.
Advanced Firewall – Block hackers from accessing your home network. Filter the incoming traffic and block the malware and intrusive scripts.
Password Manager – Keep and manage all your passwords encrypted and safe at one location.
File Shredder – Helps in deleting the sensitive files with no traces left.
Protection Score – Get an idea of how secure your device is and act according to it to improve security.
Web Protection – Browse securely and safely with ease.
Technical Assistance – Get peace of mind with McAfee's dedicated support team.
Secure VPN – Helps in protecting your data and location from prying eyes and access the public wi-fi securely.
Multi-Platform Compatibility – Compatible with all devices such as Windows devices, Android devices, iOS, and Mac devices.
Parental Controls – Protect your kids from online threats, control what they are watching, and allow only safe websites for access.
Anti-Theft Protection – Provides tools for devices that are extremely useful in theft. Possibility of wiping the entire sensitive data from the phone with a single command. Alarm option to alert the surrounding people.
Simultaneous Connections – Use it in up to 10 devices simultaneously with a single subscription. Protect your entire family from online threats and make their online life safer.